CURRENT PRODUCTIONS

---
POP UP: An Artistic Adventure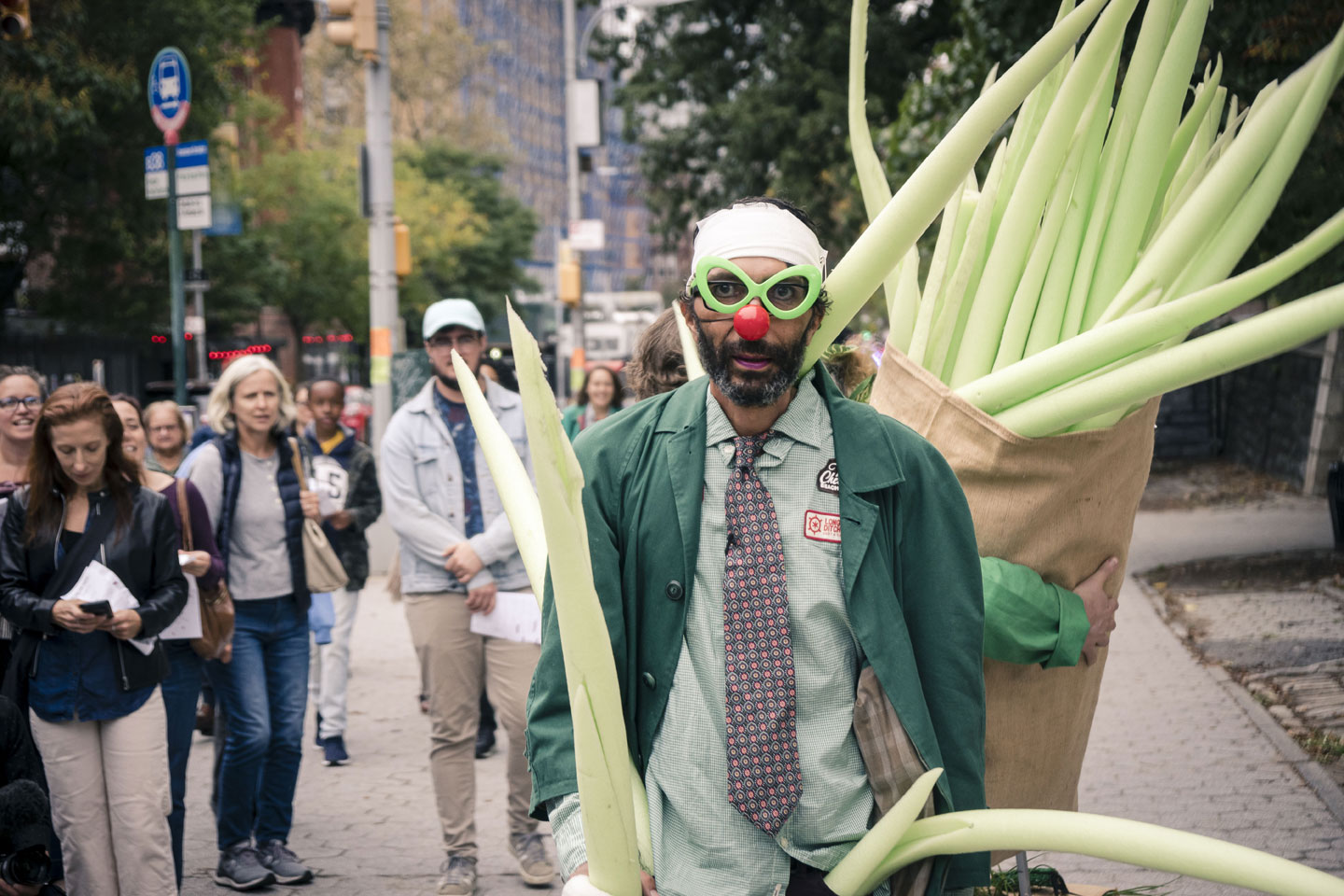 Developed by the Tours Soundpainting Orchestra (France) and the Strike Anywhere Performance Ensemble (USA), POP UP is an artistic treasure hunt. The public is guided to a series of 5-15 site-specific performances via clues on a hand-painted map. Over the course of 3 days, performances pop-up on the street, in windows, parks, plazas and businesses throughout one neighborhood. These short apparitions of music, dance, theater and/or visual art are inspired by interviews with local residents and business owners about that neighborhood. By injecting a series of alternately playful, poetic or poignant performances in everyday spaces, the project is designed to shift how people perceive those places and to connect community members through art. The performances are sculpted through a live-composing sign language called Soundpainting. Strike Anywhere (SA) and the Tours Soundpainting Orchestra (TSO) are two of the top Soundpainting ensembles in the world.

TO SEE EXCERPTS FROM VARIOUS POP UP PRODUCTIONS, WATCH: Our YouTube POP-UP Playlist.

To contact us for more info and/or to book a residency, Submit a Request for Information
POP UP is a creative-placemaking project. Performances are tailor-made for each neighborhood. By projecting the dreams, impressions and experiences of local residents onto everyday spaces, POP UP engages a community in the creation of public art, highlights local diversity, and illuminates our shared humanity.
"Usually it is a hurricane that brings strangers together on the street, talking to one another. How wonderful, that in this case, it is art." -audience member
---
Windows and Mirrors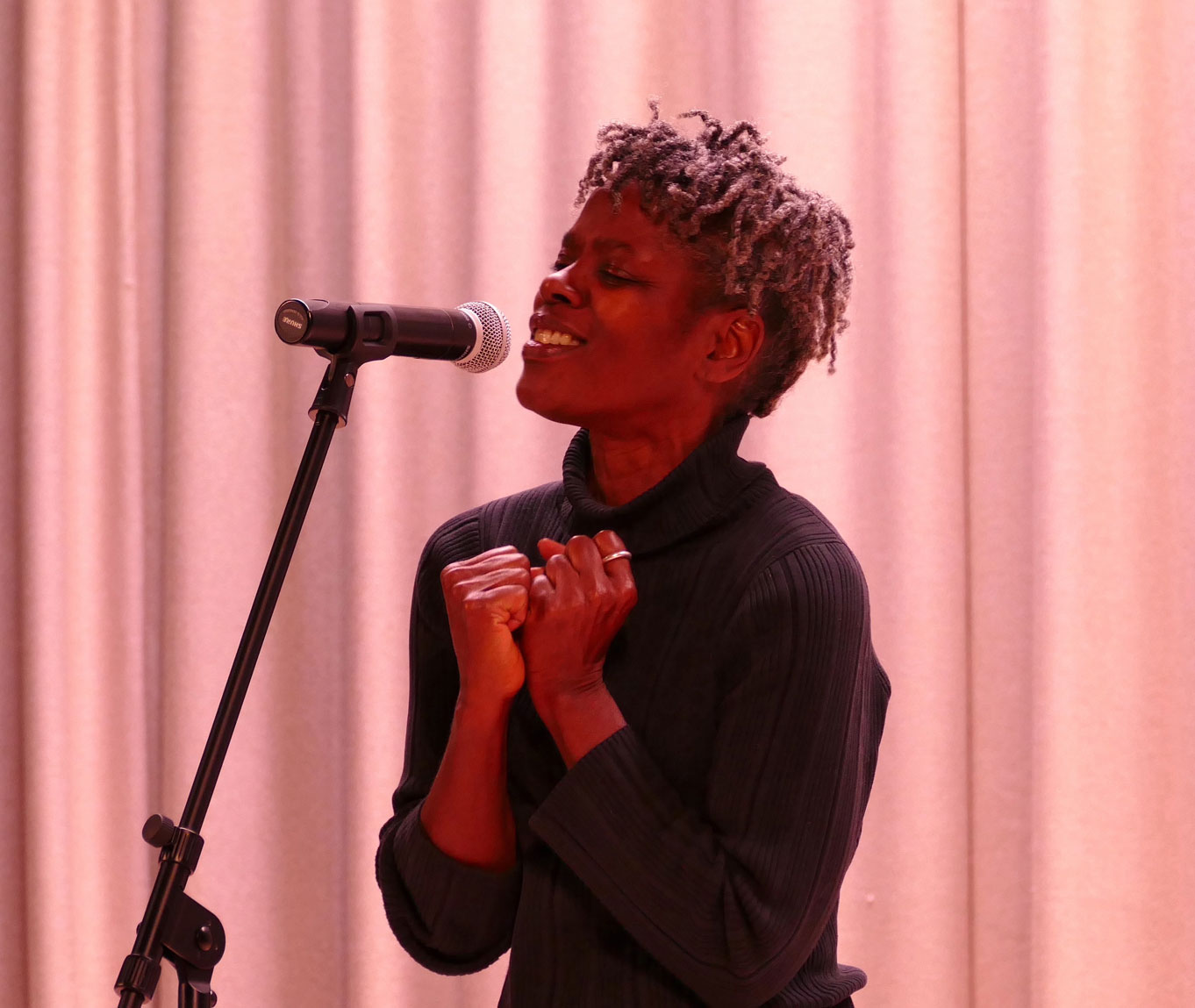 Windows and Mirrors is a storytelling residency book-ended by two performances. The professional show kick-starts the residency by modelling what participants will perform at the culmination of the residency. The Windows and Mirrors performance features Strike Anywhere performers sharing true stories about pivotal moments in their lives. Audiences are offered "windows" into the storyteller's experiences as well as "mirrors" when they see themselves reflected on stage. The performance features live music.

Residencies typically consist of 8-12 workshops and place a professional playwright and/or actor in residence with the group. Residencies are available to middle schools, high schools, colleges and community groups. In school settings, the professional show can feature teachers from the host school. Teachers undergo a series of professional development workshops to hone their skills as writer/storytellers and then perform alongside Strike Anywhere's professional ensemble.

The residency focuses on the elements of an engaging story, on solo performance and culminates with every participant performing their own story. The residency can be tailored to address the specific curricular needs of a classroom. Participants will hone writing, editing, listening and performance skills. A curated show highlights a select group of storytellers accompanied by Strike Anywhere musicians.

Check out our WINDOWS AND MIRRORS Sizzle Reel

To contact us for more info and/or to book a residency, Submit a Request for Information
"WINDOWS AND MIRRORS has become a rite of passage for our students."
- Heather Cristol - Assistant Principal - International H.S. for Health Sciences
"I want my words to make people think and reflect on life." -W&M Student

"I learned to be specific and talk with the heart." -W&M Student

"Students need classrooms that are fun, loving, create a sense of belonging, inspire curiosity and success. Strike Anywhere's WINDOWS AND MIRRORS fulfills all of these needs." - Paula Lettiere - Principal - Fort Greene Preparatory Academy
---
Delivering Democracy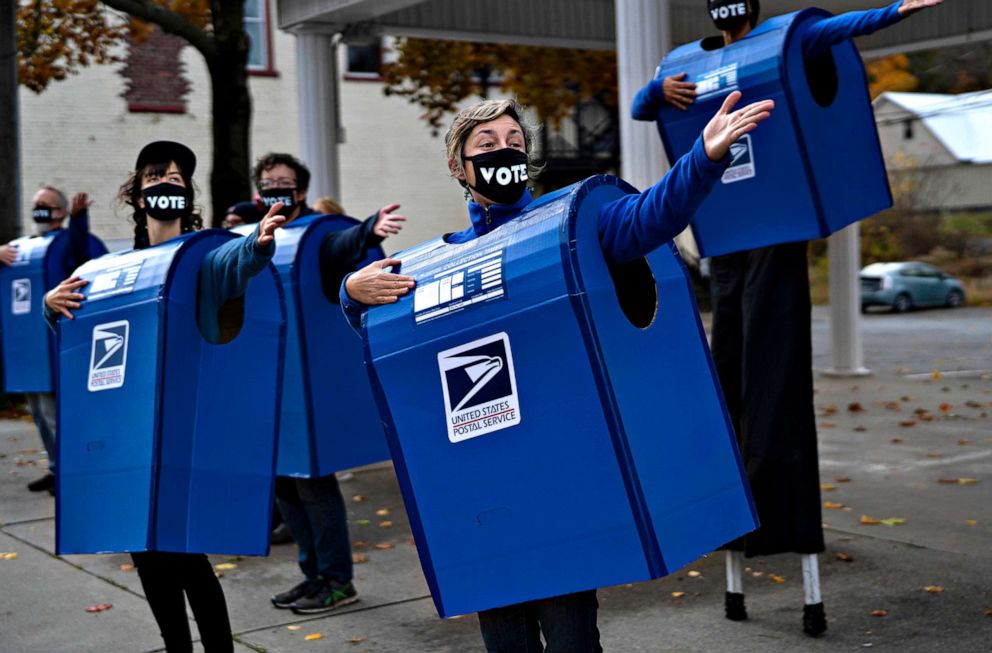 DELIVERING DEMOCRACY is a playful, non-partisan voter information campaign that performed all over the swing state of Pennsylvania during the run-up to the 2020 Presidential election to counteract voter suppression and expand participation in our democracy. This uplifting piece of street theater featured singing and dancing mailboxes and ballot boxes sharing accurate voting information. DELIVERING DEMOCRACY performed in small towns and big cities throughout Pennsylvania delighting crowds and earning media coverage from the New York Times, The Philadelphia Inquirer, Wall Street Journal, Telemundo, ABC News, CBS Morning News, and scores of other outlets, including television coverage across the United States and from Chile and Argentina to Australia to France, the UK, Belgium and the Netherlands. The mailboxes were featured in the Taylor Swift/Eric Swalwell ONLY THE YOUNG video and became a Twitter sensation.

On Inauguration Day, the Delivering Democracy crew is planning a big national dance party to celebrate the USA's peaceful transition of power and the legitimacy of our election. Gather a troupe of dancing mailboxes and join us in your local public square. Please get in touch and LET'S DANCE!

Delivering Democracy received a NET/ten Remote Connection Mini-Grant and national support from the Center for Artistic Activism's Unstoppable Voters Project- a national network of creative projects designed to counter voter suppression in swing states.

For More Information, please visit: UNSTOPPABLE VOTERS PROJECT
---
Soundpainting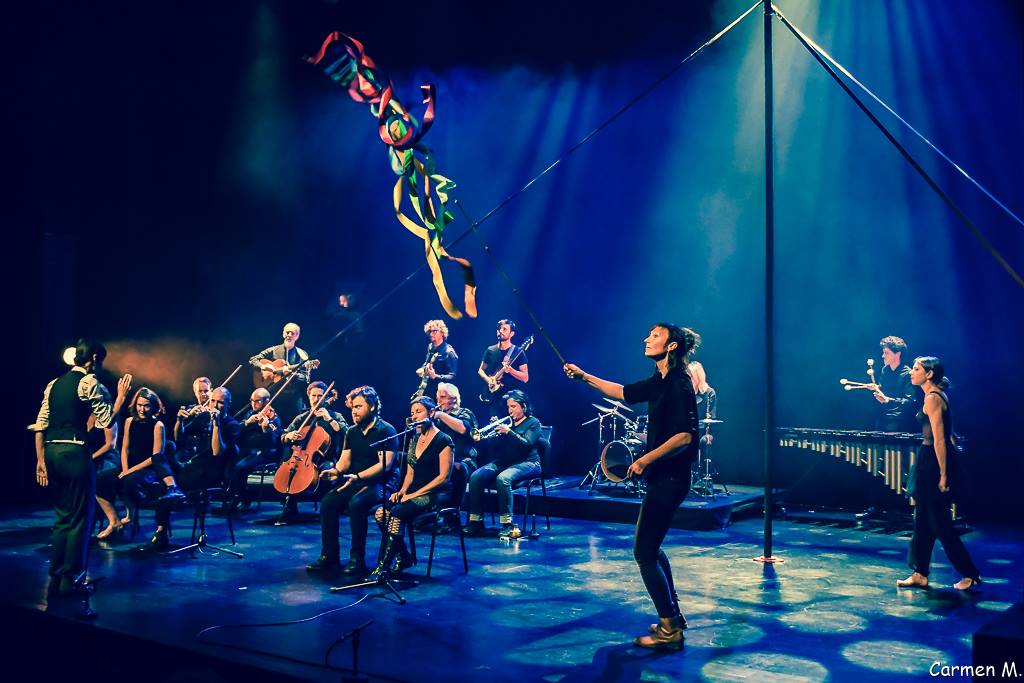 Since 1997, Strike Anywhere has been creating nuanced and polished improvisations with its collective of world-class jazz musicians, dancers and actors. SA's prime compositional tool is Soundpainting - a sign language for live composition that allows a conductor to sculpt a composition in real-time with improvising performers.

SA is the preeminent theatre company in the U.S. practicing Soundpainting. SA's Artistic Director, Leese Walker was the first actress to be soundpainted and is one of only five certified-multidisciplinary Soundpainters in the United States. SA's musicians are some of the most experienced Soundpainting performers in the world, having worked as core members of Soundpainting inventor, Walter Thompson's Orchestra since the late 1980's.

Strike Anywhere offers 3 types of custom-designed performances: OPEN FORM SOUNDPAINTINGS (no preset content), THEMED SOUNDPAINTINGS (inspired by the content of your choice) or SOUNDPAINTING COLLABORATIONS (a Soundpainting residency and performance with an established dance, music, theater or community group).

PREVIOUS OPEN FORM SOUNDPAINTINGS: 2019 Downtown Brooklyn Arts Festival, Evento Festival (Bordeaux, France), Elevated Soundscapes (Highline, NYC), La Pleiade 2018-19 Season Opening (La Riche, France), La Machine Pneumatique (Marseille, France), 2019 & 2018 Live Composition Festival (Brooklyn, NY).

PREVIOUS THEMED-SOUNDPAINTINGS: EATING OUR WAY TO EXTINCTION (Globesity Festival Commission - exploring America's obsession with over-consumption), RIVERHEAD (Two River Theatre Company Commission to celebrate the opening of their new theater) & THE WEATHER PROJECT, (NACL Theatre's epic community-based project exploring Climate Change).

PREVIOUS SOUNDPAINTING COLLABORATIONS: THE BOWIE PROJECT (2017 Ironwood Hall, 2015 Long Center, 2014 Stateside/Paramount in Austin, TX - a soundpainted mash-up of Bowie music & quotes with Andrea Ariel Dance Theatre & The Super Creeps), FARCE OF NATURE (Roundabout Theatre Company & JKO HS - Climate change), TEMPEST-TOSSED (mash-up of Shakespeare's "The Tempest" with music by Phillip Glass, Stravinsky and Ravi Shankar with a 65-member concert band, choir and 30 actors in Fort Worth, Texas).
"Led by founder and director Leese Walker, Strike Anywhere Performance Ensemble merges music, theater, improvisation, and structured composition into a total multi-media experience 'a happening' in which art leaps off the wall and into the seat next to us."
- Asbury Park Press
---
The Bowie Project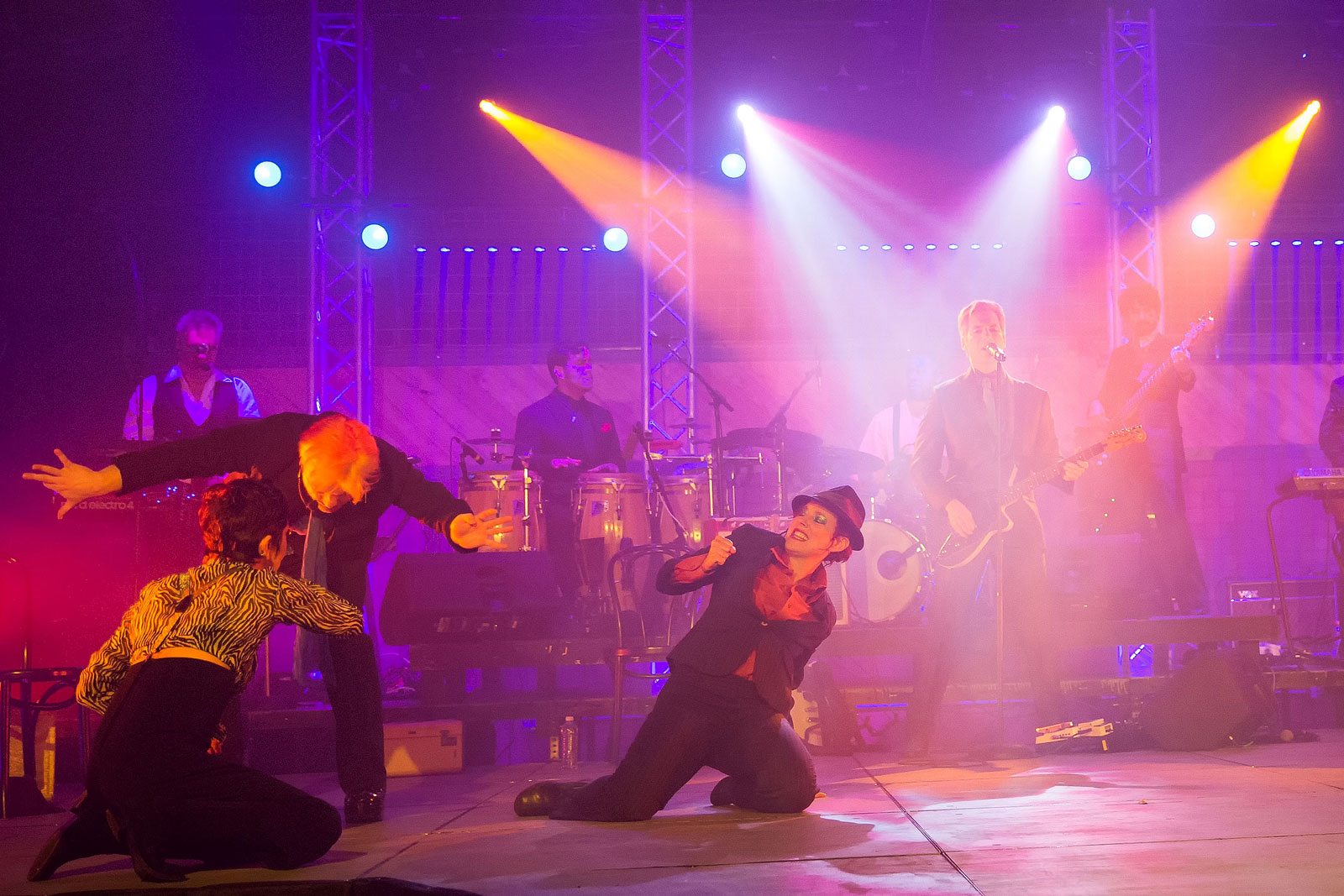 "The Bowie Project" is a collaboration between the Strike Anywhere Performance Ensemble, Austin-based Andrea Ariel Dance Theatre (A.A.D.T.) and the Bowie tribute band, The Super Creeps. The project began in 2013 and several incarnations of the piece have been performed in Austin, Texas in 2014 (Stateside at the Paramount), 2015 (Rollins Center) and 2017 (Ironwood Hall). The performance is a soundpainted mash-up of David Bowie's music, interview quotes and original choreography inspired by the mercurial artist. The piece explores the man behind the mask. The show begins in 1977 and looks back over the years to 1969 plumbing the depths of his identity as he radically remakes his persona. The performers do not attempt to impersonate David Bowie. All the players represent a facet of the performer. Rotating Soundpainters allow Bowie to reflect on his past in order to reshape his present.

Soundpainting is a universal sign language for live composition. The technique allows a composer to communicate with an interdisciplinary group of improvisers and compose in real-time. Performers respond to the soundpainter's gestures sculpting their improvisations as signed. Specific pieces of set music or choreography can be called up by the Soundpainter and manipulated. The soundpainter can then disrupt, remix, or riff on the material. No two shows are ever the same.

TO SEE EXCERPTS FROM VARIOUS INCARNATIONS OF THE BOWIE PROJECT, WATCH OUR YouTube Playlist.
---
SAME RIVER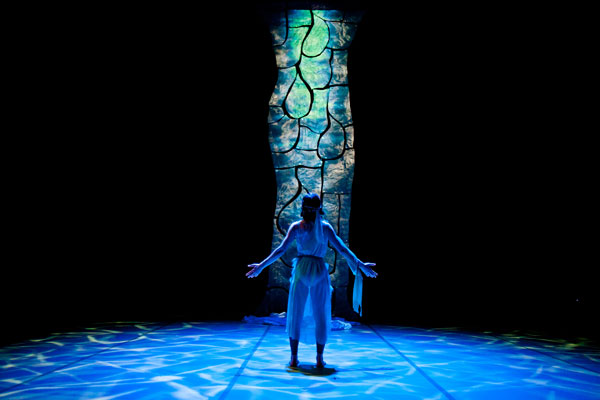 "SAME RIVER" is an improvised, interdisciplinary performance based on interviews with local residents about "fracking". Hydraulic fracturing or "fracking" is a controversial gas-drilling technique that is currently employed in 34 states. "SAME RIVER" tours to areas directly affected by shale gas drilling. The show is customized to reflect each community. The ensemble performs a residency in each locale during which time it conducts interviews with a diverse array of community members. Strike Anywhere (SA) uses the collected information and personal stories to create a high-quality, improvised performance with social and political significance. At the end of the performance, SA engages the audience in an intimate reflection process and facilitates a town-hall style meeting. Partnerships with multiple community organizations at each tour site allow SA to engage a large cross-section of the community. The goal of the project is to provide a forum for meaningful dialogue, empathy, awareness and local action.
"SAME RIVER" requires presenters who are actively involved in the development and promotion of the work. Strike Anywhere establishes a main partner in each touring locale who presents the work and connects SA to other community organizations. These secondary partners provide access to interview subjects, help publicize the show, and may provide housing, rehearsal space or other resources. Strike Anywhere draws non-traditional audience in addition to regular theater-goers thanks to its partnerships and as a result of the interview process. SA has honed its expertise of touring over the last 21 years.
Established in 1997, Strike Anywhere devises original performances that are collaboratively-crafted by the ensemble. SA performances always feature live music, physical theater and modern dance. The company applies structures and concepts from American jazz to their inter-disciplinary improvisations to create performances that are provocative and alive. The ensemble has shared its work at theatres, conferences and festivals both nationally and internationally. The company has performed in Hawaii, France, at the Brooklyn Academy of Music, and has been featured on Radio France, NPR, German Public Radio and U.S. television.
"Call it, Hydrofracking The Play. 'Same River', features dance and improvisation based on interviews of residents in rural communities that have been turned upside down by the controversial gas-extraction method." -Brenna Walton, The New York Times - The Local

"Strike Anywhere's skill at communicating the complexity and pathos of the issue of our water, our way of life, of our relationship to the gas and oil industry infiltrating our neighborhoods was striking." -Sabrina Artel, WJFF Radio

"As NY considers drilling as many as 100,000 wells in the watershed for over 16 million people, Same River brings the human stories of those who are in the pathway of this industry to the fore." -David L'Heureux, Senior Editor, Rodale.com
TO SEE EXCERPTS FROM VARIOUS ITERATIONS OF SAME RIVER, WATCH OUR YouTube Playlist
---