CURRENT PRODUCTIONS

---
SAME RIVER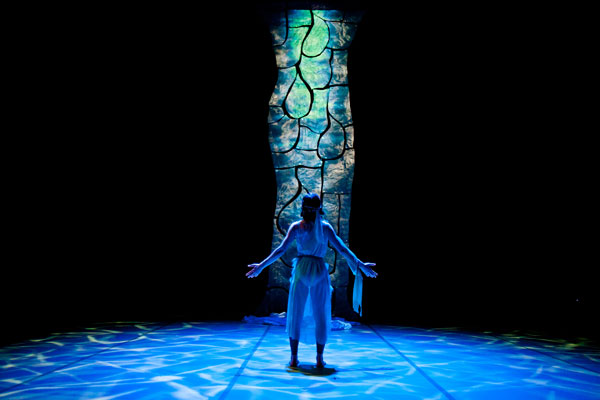 SAME RIVER is an improvised inter-disciplinary performance based on interviews with local residents about water. The Strike Anywhere Performance Ensemble began to develop SAME RIVER in July 2010 as part of the North American Cultural Laboratory's (NACL) Catskill Festival of New Theater. Distantly aware of the conflict that was raging upstate, Strike Anywhere dropped into a firestorm. The rural towns of Sullivan County, NY were being torn apart by a battle over natural gas drilling and the potential damage gas drilling poses to water resources. The Delaware River Basin, which provides 16 million people with drinking water (including NYC and Philadelphia), was under siege. The picture was complex. Passions were high.

During a 10-day residency at NACL, Strike Anywhere (SA) interviewed local residents about water and researched community water issues. Months of pre-planning allowed the ensemble to assemble a diverse range of voices. The company met one-on-one with activists, scientists, farmers, and politicians. SA used the collected information, interviews and personal stories to create a high-quality, improvised performance with social and political significance.

SAME RIVER has several layers of community engagement. During the first two-thirds of the performance, audience members write responses to the show on water-drop shaped papers. The ensemble uses the written responses to guide the remaining section of the show. At the end of the performance, SA engages the audience in an intimate reflection process and facilitates a town-hall style meeting. The discussion forum begins by asking the audience to speak in pairs and then in small group discussions. The company slides gracefully to a large group discussion amongst the audience using a tightly structured format. This format will be honed and perfected over the course of the upcoming tour.

Each performance is unique. It will be based on interviews in the local community where the performance venue is located. A residency component allows the company to conduct the interviews prior to each set of performances.
Strike Anywheres skill at communicating the complexity and pathos of the issue of our water, our way of life, of our relationship to the gas and oil industry infiltrating our neighborhoods was striking. -Sabrina Artel - WJFF Radio - August 2010

They really took us to heart. -John, local carpenter,

I don't know how you did it, but you managed to really capture the voices of the community -Colette Ballew, local teacher,

I haven't felt that sense of empowerment in a while, thank you- Local Resident
View videos and listen to interviews about SAME RIVER on our VIDEO page.
---
!! FreEpLaY !!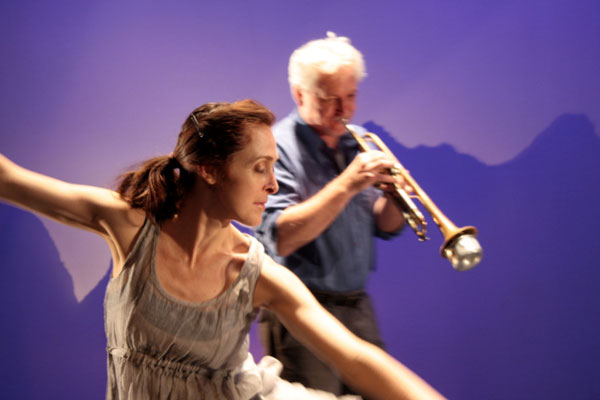 !! FreEpLaY !! is Strike Anywhere's monthly performance series. The evening features SA's interdisciplinary ensemble of world-class musicians, dancers, designers and actors spontaneously spinning performance pieces. Part performance, part creativity lab, the ensemble steps into the unknown, creating art in the moment, allowing intuition, the sounds of the room and audience suggestion to guide what they play. From special guests to Soundpainting, the evening is one of perpetual surprise.
"A totally unpredictable and sometimes telepathically linked mixture of gesture, dance and movement, set to music also improvised on the spot." -Rick Palley, Brooklyn Skyline

"Untidy gray areas exist in the way we experience art - between artist and composition, between audience and performance, between painting and music and poetry and dance, between structure and chaos. ...Smack in the middle of this in-between-ness lives the Strike Anywhere Performance Ensemble." - Carlton Wilkinson, Asbury Park Press

"I've seen this performance several times now and every show is unique." - Kate Cordaro, Education Coordinator, Two River Theatre Company
---
The Ensemble Theater Showcase
ENSEMBLES: the R & D wing of American Theater: Ensemble Theater is where boundaries are being pushed, where innovation is happening, where risk-taking is the base-line of creation. For one night only, ensemble theaters from around the country will offer a sneak-peek of current work. Featuring an eclectic menu of soundpainted Shakespeare, physical theater, and site-specific social critique, this evening will highlight some of the tastiest treats from the Network of Ensemble Theaters (N.E.T.). Post-show drinks in lobby.
---
The Macbeth Variations (a bilingual French/English production)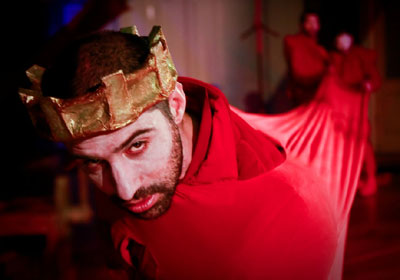 The Macbeth Variations is an international collaboration between Strike Anywhere and ANITYA (Paris, France). ANITYA is the foremost French practitioner of Soundpainting, the sign language used to structure improvisations invented by Walter Thompson. Strike Anywhere is one of only two interdisciplinary ensembles in the U.S. currently applying Soundpainting to classical text. Stage 1, performed in Paris in November 2008, layered excerpts from Verdi's "Macbeth", Jarry's "Ubu Roi" and Shakespeare to create a vibrant, multi-media mosaic which explored the nature of ambition and the question of free-will vs. fate. Stage 2 will take place in NYC in October 2009. Using physical theater, modern dance, improvised new music and Soundpainting, the piece explores excerpts from Shakespeare's "Macbeth" to create a highly-charged interdisciplinary performance event that is different every night.
An event that brings together musicians, puppeteers, dancers, and actors in an audacious version of Shakespeare's Macbeth. Shakespeare would have been proud of this modern take of his classic
- Daniel Brown, Radio France
LISTEN TO AN MP3 AUDIO RECORDING FROM RADIO FRANCE.
---
Meditations on Macbeth (English language version)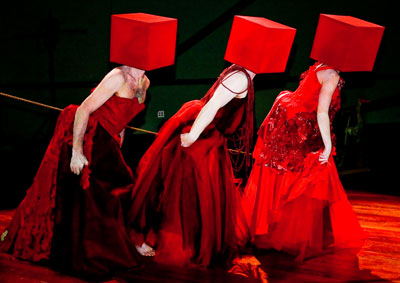 Meditations on Macbeth is a set of improvised inter-disciplinary compositions created and performed by the Strike Anywhere Performance Ensemble. The evening is broken into several movements, each movement exploring a different aspect of the play Macbeth using Shakespeare's text as the melodyfrom which the improvisers depart. Just as jazz musicians improvise on jazz standardsfinding infinite variety within classic tunes, each performance of the show will be different. Improvisers rip apart rehearsed scenes and reassemble them in new ways examining the elasticity of ethics, the nature of ambition, and the corruption of the mind.

The performance features on-stage conductors who sculpt the improvisation through a complex sign language called Soundpainting. Soundpainting is the live composing sign language created by New York composer Walter Thompson for musicians, dancers, and actors. Performers respond to the conductor's gestures by shaping their improvisation as signed. Musicians might jump from an up-tempo swing-feel to a splatter of pointillistic sound while actors, tangled in a seduction scene, suddenly reveal their whirring interiors through a set of repetitive actions. By using Soundpainting to disrupt narrative, to loop, splice and reorder text, the sonorous quality of Shakespeare's language takes front seat. Actors can solo, comp, punctuate or provide counterpoint just as members of a band. Actors might be directed to cycle a selection of lines with changes in intention, tone, or even the sequence of the words themselves. The use of repetition and variation breeds multiple layers of meaning. The result is a highly-charged interdisciplinary performance event that transcends language, a soundscape that floats in the sea of jazz, and is anchored in classical text.

Though Soundpainting has been embraced by music departments in several key American Universities and by conservatories and orchestras throughout Europe, Strike Anywhere is one of only two ensembles in the U.S. applying the Soundpainting language to theater and the first group to apply Soundpainting to Shakespeare.
"This production is both edgy and old skool...A tone poem, meant to invoke a nightmare. It was the best staging of the play I've seen in a while."
- Robin Lester, Clinton Hill Blog
---
10 Brecht Poems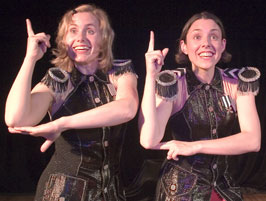 Featured on NPR, WBAI and German Public Radio, Strike Anywhere Performance Ensemble and NaCl Theatre present a dynamic, two-woman theatre piece entitled, 10 Brecht Poems. New York based actresses, Tannis Kowalchuk (NaCl Theatre) and Leese Walker (Strike Anywhere) make use of their extensive training in physical theatre, music, visual art, and storytelling to bring to life 10 poems by Bertolt Brecht, the renowned German playwright and social critic. Kowalchuk and Walker, the creators of the show, use satire and a variety of performance styles to examine the horrors of war, the importance of solidarity and the need for dissent. Aside from tight vocal harmonies, precise movement, and powerful text, the performance also features hand-painted slides and shadow puppets by the pair. 10 Brecht Poems has toured to over 40 venues following extended runs at NYC's Brecht Forum in 2003 and 2004. The show was presented in 2005 in Chicago (sponsored by Poetry Magazine) and at the Goethe Institut in Washington DC. In New York City, the piece has been seen at the Zipper Factory, PS 122, Galapogos, Judson Memorial Church, B.R.I.C., Bowery Poetry Club and HERE Arts Center. The show has toured to numerous colleges including: Brown University, Penn State, Trinity College, Hood College, Muhlenberg, New York University and several S.U.N.Y schools. 10 Brecht Poems was featured at the 2007 Fury Factory Festival in San Francisco, the 2005 Magdalena Festival, the 2003 KO Festival of Performance, the 2002 and 2003 Catskill Festival of New Theatre and excerpts were shared at the 2005 Network of Ensemble Theatres Festival in California. Currently touring - residencies and pre-show workshops are available for university and high school students.
Performing in a vaudevillian style including song, dance, storytelling, hand-painted slides and shadow-puppets, Tannis Kowalchuk and Leese Walker could be serving fairy tales to the kiddies, but their intent is far more poignant and appreciated.
- Village Voice
---
Soundpainting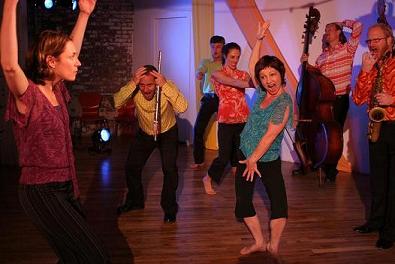 Mixing physical theatre, new music, masks and modern dance, Strike Anywhere Performance Ensemble adeptly explores the untapped edges of improvisation. Using a revolutionary new approach to composition, the troupe sculpts their improvisations through a conducting language called Soundpainting. Soundpainting is the live composing sign language created by New York composer Walter Thompson for musicians, dancers, actors, poets, and visual artists working in the medium of structured improvisation. At present the language comprises over 750 gestures that are signed by the composer/conductor indicating the type of improvisation desired of the performers. Direction of the composition is gained through the parameters of each set of signed gestures. Strike Anywhere is the only theatre company of its kind using this revolutionary approach to improvised performance. Currently available for tour. Residencies, collaborations and commissions are available to create "themed-Soundpaintings". A Shakespeare Soundpainting is currently in the works. John Lennon: a Soundpainting will premiere in NYC in spring of 2008.
Led by founder and director Leese Walker, Strike Anywhere Performance Ensemble merges music, theater, improvisation, and structured composition into a total multi-media experience – a "happening" in which art leaps off the wall and into the seat next to us.
- Asbury Park Press
Examples of previous "themed-soundpaintings" include:

Eating Our Way to Extinction: A Soundpainting of Epic Proportions (October, 2007-Globesity Festival - Theatre for the New City, NYC)
Commissioned specifically as the closing event for the Festival, Strike Anywhere tapped its natural resources to create a super-sized Soundpainting examining America's over-the-top obsession with over-consumption! While the trumpeter ate close to a dozen hamburgers after playing a blistering trumpet solo, actors riffed on a series of satiric diet commercials and talk show parodies in a theater filled with the smell of bacon.

John Lennon: A Soundpainting (September, 2007-Network of Ensemble Theaters Annual Gathering - Fayette, ME - WOrk-in-Progress Showing)
An improvised composition weaving quotes from interviews, poetry and songs by John Lennon into a colorful multi-media mosaic. John Lennon: A Soundpainting will premiere in NYC in the spring of 2008.

Riverhead (March 5, 2005-Red Bank, NJ)
Commissioned by the Two River Theatre Company in Red Bank, NJ, this fantastical creation story was specially crafted by the ensemble to honor the town and celebrate the the opening of Two River's new theater. Presented as part of the New Jersey Theater Alliance's statewide event, Family Week.

Safety & Security (November 2004 – Galapagos-Brooklyn, NY)
A soundpainted response to the color-coded climate of fear perpetrated by the Bush Regime in 2004.
---